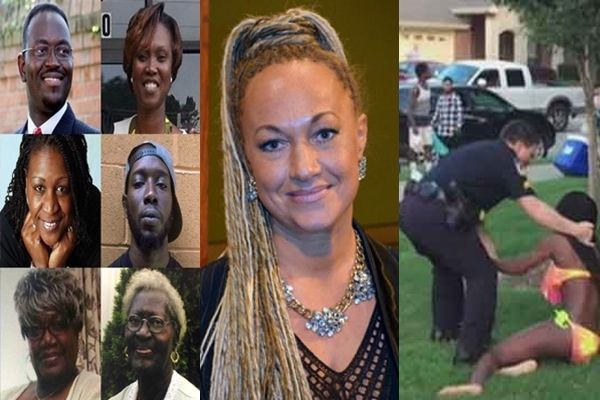 June of 2015 was packed with pride, sorrow, and controversy after a host of racially provocative current events sparked nationwide discussion. The month's opinion pages in newspapers across the country were dominated by pieces covering the nuances of racism in America in response to a diverse set of contentious issues. The sorrow and shock surrounding the Charleston shooting made an interesting contrast in comparison to the triviality of the Rachel Dozelal race identity debate. We had a perfect storm of racial discussion this month, covering all spheres of the issue: a hate crime and its gun violence, the contemporary relevance of a historical flag, the extent and scope of legal self-identification, and the recurring bigotry in local police forces. Ladies and gentlemen, June of 2015 is an excellent opportunity to evaluate racial progress in the United States by putting these divisive issues side by side in one complete comparison. The month is also a perfect evaluation of social media's role in exposing and exacerbating controversy in America.
Rachel Dolezal is ethnically white but identifies as black. Technically, she argues that she is "mixed race" despite clearly being Caucasian, a statement that has spurred criticism but also drawn admirers. It has also inspired a flurry of jokes on social media. These debates come in the wake of Caitlyn Jenner's recent sex change, which sparked a similar discussion about transgender identity. In general, public opinion has been drifting towards a more open mindset when regarding sexuality; many now believe that men and women should be free to identify with whatever gender they please. But can men and women identify with whatever ethnicity they please? Is there a limit? At first, I didn't mind Dolezal's declaration. If a man sees himself as a woman, he can identify as a woman. So if a white woman sees herself as a black woman, she should be free to identify as she pleases. But when the details of her life came to light and I heard some points from her critics, I changed my mind. Once Dolezal made her decision, she essentially deceived everyone that crossed her path. She told people stories about her childhood and background that completely contradicted her family's statements. It has been proven that she lied. This was not a case of someone's honest, truehearted attempt to discover oneself. Why be so deceitful? Her fabricated life stories often highlighted personal "struggles" with discrimination in the past. I want to believe that her views are genuinely a self-identity issue, but her actions seem like it was just an attention grab in order to advance her career. It is hard to conclude that there were no other motivations. Inequality visibly exists in our society, and the wrong person could try to game the system. For example, consider how black students often have a slight advantage in college admissions, and Asians have a slight disadvantage.
Another controversial event centered on excessive and perhaps racially motivated police brutality. The violent takedown of an unarmed black teenage girl by a white cop at a pool party in Mckinney, Texas, created waves of outrage all over the news and internet. Relevant organizations that chose to remain silent also sparked outrage, especially the National Organization for Women. Black journalist Roland Martin criticized the feminist organization for failing to condemn, or even acknowledge this case of police brutality. For activists, social media has been a great asset in exposing corruption and bad behavior among the police force, but its value is lost when the message's recipients fail to act. In this instance, the N.O.W. failed to defend one of the people it was created to protect. The racial controversy surrounding the cop is alarming, but so is the reticence of a leading advocacy group in America. Silence often speaks louder than words, and the lack of acknowledgment is troubling.
Last week, I focused on the Charleston shootings and briefly discussed the Confederate flag. Since then, the South Carolina officials have decided to remove the flag from capitol grounds, and several other lawmakers have expressed their opinions on the "bars and stars." I support the decision to remove the symbol from government property. However, I find the vehement rhetoric scouring social media quite troubling. No one should be personally attacked because of opinions, but as of late, it seems that anyone who holds the unpopular opinion of leaving the flag up receives unwarranted backlash. It is acceptable to criticize another argument, but too many people have gotten carried away. Those who wish to celebrate their heritage and make a case for a less malevolent view of the flag have been ostracized from the national community. To make matters worse, many people join the masses in condemning anyone who has favorable views on the symbol without understanding its history or context. Social media has great power for good in exposing everyday evils that used to fly under the radar, but it also is playing a role in polarizing our country. For example, on Facebook, disregarding an opinion you don't agree with is as easy as unfriending the person who made that statement. Those who make an unpopular comment often encounter the wrath of the opposition. On Twitter, we filter our news and only follow sources we like. Therefore, the liberal only follows liberal news sites and hears opinions that support his views. The conservative does likewise. As a result, these people only hear the facts and opinions support their views, which serves to further radicalize these groups. The ability to filter information on the massive scale that social media provides is polarizing our country. With Rachel Dolezal's identity crisis, social media brought comic relief and some perspective. Her falsifications and peculiar attitude highlighted the racial problems still apparent in American society. In addition, the failure to comment on social media exposed hypocrisy within one of the country's most prominent advocacy groups. These contributions, or lack thereof, played an important role in raising questions about racism that we could not have asked a couple decades ago because of technology limitations. But social media is also allowing us to reinforce our own opinions, playing a major role in the social and political polarization within America. With great power comes great responsibility, and as we embark upon the digital age, we must maximize the benefits and mitigate the dangers of this powerful new tool.