| | |
| --- | --- |
| Posted by Justin Tucker on December 7, 2015 at 1:00 PM | |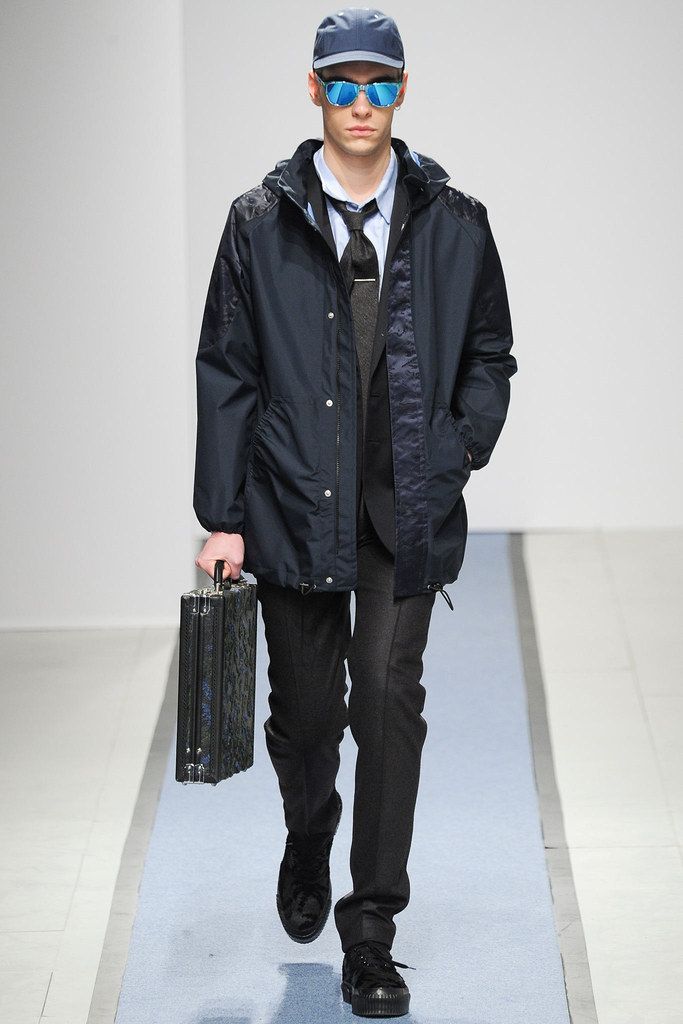 What does a man who has decided to leave the surf 'n' skate behind and pick up and everyday 9-to-5 look like? One might imagine an ill-fitting suit paired with long, golden locks and a pair of retro sneakers as he makes his way to his new office – where there are tables, chairs and fingers pounding away at keyboards rather than the usual sand and sounds of crashing waves. This description actually isn't that far off from what designer Julian David would imagine, according to his Fall/Winter 2015 menswear collection. Just take a look at the models with their loose jackets and shirts left un-tucked, knee-length shorts, thick-soled skate shoes, Oakley shades and briefcases decorated with palm-trees. The only major difference was that David understood the power behind dark, gelled hair as opposed to golden locks.
Style Advice: Let's cut right to the chase here. It's time to put the fun and games aside and get down to business. First thing you're going to need is a basic suit to at least get you through the interview process. Since you aren't in the door just yet, an affordable option like the sharkskin solid suit from Perry Ellis will do the trick. It retails for just $140, meaning you only need help out a few close neighbors with the leaves in order to afford it. The easiest and most appropriate combination to pair with a standard suit such as this one includes a simple white shirt ($60) and black tie ($40), which you can find at Express. Last thing you want to do is get blown away in heavy rains and high winds on the way to your appointment. Keep your tie in place with a silver shot tie bar ($15) from none other than The Tie Bar while protecting your suit with a rains waterproof jacket ($140) from Topman. If the sun happens to make an appearance, just pull out your Polaroid mirror lens sunglasses ($60) from Lord & Taylor and your J. Crew baseball cap ($50). Now, we understand your hesitance to completely conform to office standards, which is why we recommend the Vans leather "old skool" sneakers ($70). Add a simple briefcase like the soft leather bag ($179) from Zara and no one will even notice your shoes.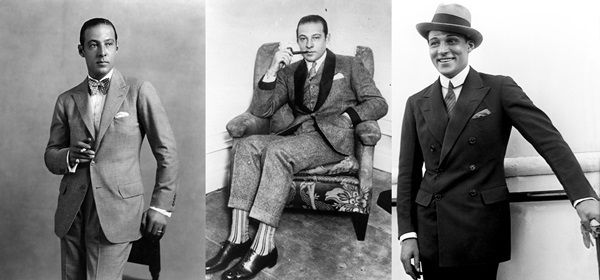 Style Anthropology: Rudolph Valentino is one of those names which seems to fly under the radar when it comes to the history of style connoisseurs. Maybe that's because of his somewhat difficult road to stardom, or the fact that he lived a rather short life. Nonetheless, this great silent film star was undeniably savvy in his style choices, which ultimately cemented his status as a sex symbol in the 1920s. Just like many fashion enthusiasts, Valentino decided that he would rather go hungry than be poorly dressed. Sticking to his Italian heritage, he was known (and often ridiculed) for transitioning between the sophistication of his 30+ "fits-like-a-glove" European suits and more eccentric pieces – including gaucho pants, white vests, and a massive assortment of colorful accessories (socks, ties, handkerchiefs) and jewelry – which, at the time, were viewed as effeminate. By the climax of his career, his style choices began to directly influence the public, with men emulating everything from his slicked-back hair to his confident use of color. To put the nail on the coffin (no pun intended), you could almost always spot Valentino with a hat. Though his style was often seen as excessive, his dedication to heritage was unmatched. That explains why he will probably remain an icon for years to come.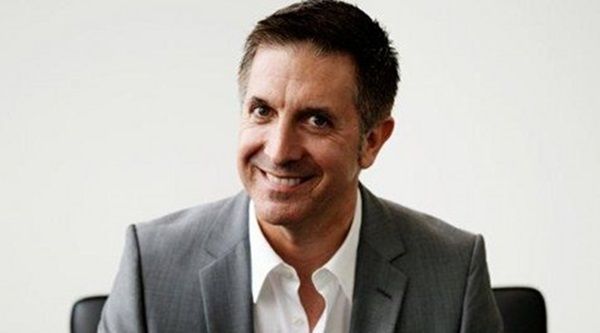 Industry News: We've just received word about a major change at one of America's top fashion labels: John Varvatos. Earlier in the week, former president for Michael Kors and Hugo Boss – Mark Brashear – was appointed as the new CEO and president, replacing Cristiano Quieti. In an interview, Brashear appeared to be excited about his new role with the iconic American brand. He mentioned his desire to expand the label's wholesale and retail presence on both a domestic and international scale. We're excited to see what comes of this business venture.