| | |
| --- | --- |
| Posted by Justin Tucker on December 12, 2015 at 5:00 PM | |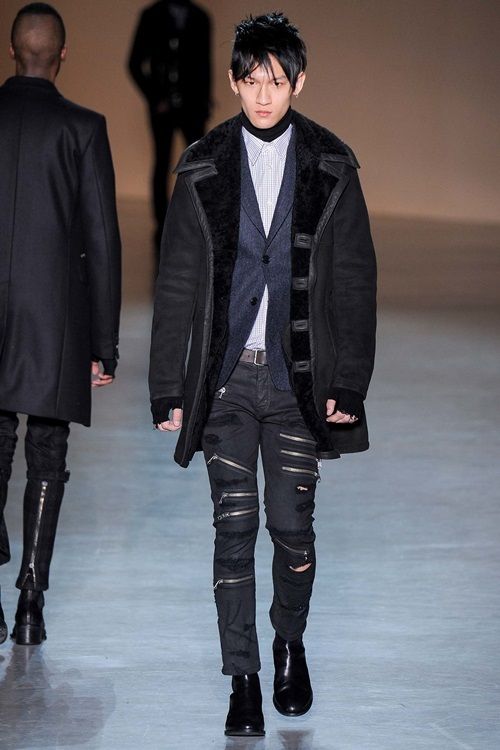 Have a look at any one of the chained, safety-pinned or studded outerwear garments from Andreas Melbostad's Fall/Winter 2015 menswear collection for Diesel Black Gold, and you're likely to see the words "Black Gold Subversion League" printed on one of the patches. Surely, one look at the collection is enough to make any stuffy business executive cringe at his desk. Calculated disruption, as we like to call it, is probably the perfect way to describe the assortment of preppy-punk ensembles. Featuring a rebellious lineup of sharply-tailored smart separates combined with the blunt rocker-esque vibes of the many rips, zips and tartan prints, Melbostad appears to be coming into his own within his role with the label.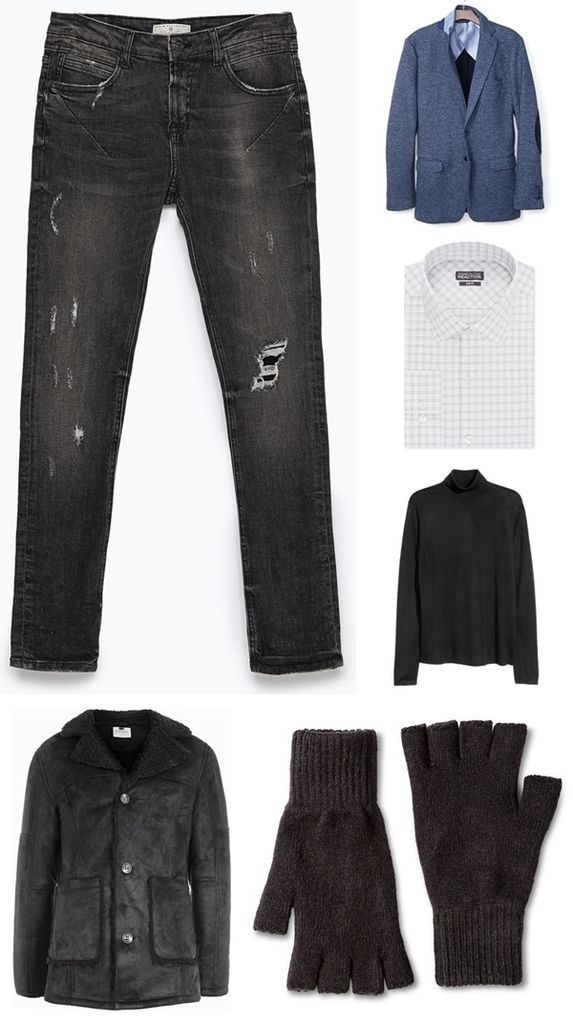 Style Advice: Pulling off a look that borders between preppy and grunge isn't necessarily the easiest to accomplish. However, if you know how to layer properly to create the right proportions, it can be done quite effortlessly. Of course, you're going to want to start with our base layers. The prep in you will want to pair the simple Kenneth Cole Reaction Slim-Fit Performance Check Dress Shirt ($36) with the Banana Republic Modern Slim Knit Blazer ($298). Now to satisfy your rebellious side: rather than a normal t-shirt under your dress shirt, throw on a basic H&M Wool-blend Turtleneck Sweater ($40) for a little extra warmth. Now you can really step things up a notch with Topman's Black Faux Shearling Jacket ($160) as well as a pair of Zara Distressed Denim ($80). Here's the icing on the cake: nothing screams 'cool' louder than a pair of ASOS Chelsea Boots in Leather ($81). All you need to do now is tear up a pair of Target's Fingerless Gloves ($15) and you'll be good to go.
Must-Have: So let's think in terms of accessories for a moment. After all, the best way to personalize your look is by adding a few personal touches in the smaller details. One way this can be accomplished is with the addition of a nice hat. Now, I understand that there may be some reservations with regards to sporting a fancy chapeau. "I don't look good in a hat," "I can't find one that fits my head," and "I have too much hair," are a few examples. But let's think about some of the greatest men to ever walk the earth – guys like Miles Davis, Frank Sinatra and Pharrell. These gentlemen have demonstrated no fears with regard to hats, and they've ultimately secured their positions as style icons as a result. Besides, who can resist the beauty of the Jackson Fedora from Yellow 108, with its tear drop crown and vibrant camel hue? We didn't think so; so do yourself a favor and make that $98 investment.
Industry News: Do you remember that campaign that Frank Ocean shot for the recently defunct brand, Band of Outsiders? It must have been something in the water which caused both Mr. Ocean and the brand's founder, Scott Sternberg, to seemingly fall off the face of the earth. Now it seems that the two are still on the same wavelength. While we continue to wait patiently for a new album from Frank Ocean (which was allegedly pushed back to an unknown 2016 release date), we can now also set our sights on the return of the label, which is expected to return to high-end markets for the Spring 2017 season. That may seem like a little ways off, but cut the brand some slack. Apparently, an all-new team has been assembled – one that does not involve Sternberg. We're not sure what exactly this means for the brand's revival, but we can only hope for the best. Be sure to mark your calendars for the initial previews scheduled for September 2016.