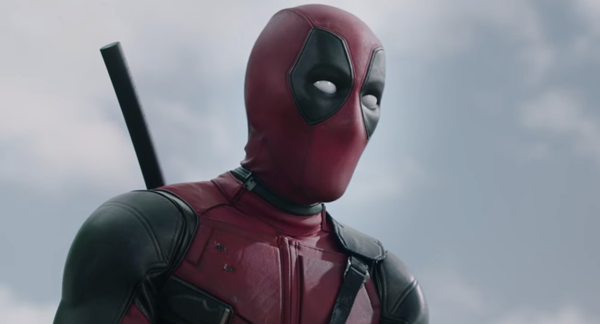 This week doesn't come sour in the comedy department. Whether it's highlighting a return-to-form for the comic book genre, or recognizing the bizarre near-brilliance of one of television's most promising freshmen dramedies, or simply looking out for what's to come from one of the comic scene's most prominent stars in-the-moment, this week is all about celebrating the laughs, as well as some of the tears that sometimes come beside them. 
For laughter doesn't come without some pain — whether internally or through others. And though this week's lookout will find pain comes from various different directions, one facet remains true: you have to live to make it through. Or in the case of one character in this list, learn to live, almost die, and seek revenge on those who turned you into the half-life you are right now. But really, let's not dig too deep into specifics. The general gist is the same. Like I said, laughter comes from pain, or sometimes not being able to feel pain. Like one guy I'll talk about pretty soon. Dammit, there I go again….
Anyway, this will be less about healing through humor, but knowing how the yuks can come from the deepest, most introspective of places at times. And also how you can learn to push yourself to become a stronger person, a more willful individual and a triumphant talent. All these examples recognize the talents of some of Hollywood's most acutely talented, and how they're working with-and-against their most natural talents to produce works of art that do, or will, make the funny bone department stronger in at least some small ways. Or hopefully will, as I'll explain later as I dig deeper. Alright, let's stop clowning around. Take a look at what this week brings — or continues to bring, in one specific case — in the worlds of comedy and drama, and somewhere in-between.
Film: Deadpool is the kind of balls-to-the-wall, fist-to-the-air, middle finger-to-the-world triumphant the superhero genre hasn't experienced in ages. Gleefully sophomoric-but-loving compacted, the feature directorial debut of Tim Miller — an animator whom you may know best for being behind the ultra-trippy opening credits to David Fincher's The Girl with the Dragon Tattoo — is an exuberantly crass piece of work. A confident and unapologetically low-ball effort that promises some real potential from 20th Century Fox's men-in-tights division, which is something they really, really need at this point. Not only to stand toe-to-toe with their MCU and Warner Bros./DC brothers, but to rebound after such an embarrassingly shoddy fall with last year's failed Fantastic Four reboot. They could use all the help they can get at this point, superhero-aided or otherwise. Thankfully, Deadpool is a very nice change-of-pace, and one not only the studio needs, but one the genre deserves now too. 
The titular anti-hero based on Rob Liefeld and Fabian Nicieza less-than-iconic cartoon creation is the role Ryan Reynolds was born to play. After two failed attempts in the superhero department — not only fairing poorly in the role-in-question in 2009's X-Men Origins: Wolverine, but also teaming up with DC to horrendous results for 2011's ill-fated Green Lantern — all is more-than-forgiven with the handsome former A-lister, as the actor/producer gives each-and-every-take his all, and then some. Improvising like a pro, strutting his stuff like it's nobody business and manically firing on all cylinders, it's exactly the sort of comeback the actor needs at the moment, and one the charming-as-could-be performer most definitely deserves. He packs more wit, heart and soul in each second of Deadpool than Avengers: Age of Ultron could obtain in its entire, exhausting 142 minutes of drab. He and Miller, aided diligently by a fateful-as-hell screenplay by Zombieland scribes Rhett Reese and Paul Wernick, wallop a hell of a cinematic punch, and the blow-to-the-brains comic book movies need so desperately right now. Did I mention how we need this movie right Now? Okay good, I wanted to make sure that came across.
Television: FX's Baskets plays a little like a sad lullaby sung by a disgruntled, 40-something chain smoker from Albuquerque. It's poetic, lyrical in an off-tune sort of way, and even mildly cathartic. But it's very afraid to let its offbeat, drily astute humor shine through, in moments both reflective and often very, very sad. But it's less a reflection piece than it is the sort of dramatic comedy you'd get from blending the sensibilities of Todd Solondz, Gregg Turkington and Louis C.K. in a blender, the latter credited as co-creator and co-writer for the pilot. It's exactly the sort of mid-life chapter Zach Galifiankis should have at this point in his career.
The show (I hesitate to call it either a sitcom or drama) centers on Chip Baskets (Galifiankis), a French-trained clown who returns to his small-town living in Bakersfield, California when money dries up for school in Paris and his inability to speak French essentially flunks him out anyway. It only takes a couple months back home for his French wife Sarah (Malia Pyles) to leave him as she works her way towards a green-card, and the only place Chip can find employment for his art is with a local rodeo show, where his craftsmanship goes largely unappreciated. That is, unless he's hit by a passing bull. His only ally comes from an insurance saleswoman named Martha (an absolutely excellent Martha Kelly), whose monotone voice and reaction to everything never fails to earn a quick laugh, and outside of his time in the ring, Chip struggles to deal with the pressures defined by his more-successful twin brother Dale (also Galifiankis) and their expectation-heavy mother (Louie Anderson).
Throughout this all, Baskets bounces habitually between the beautiful and the tragic and, throughout its ever-defining low-key voice, it speaks to something painfully majestic and heartbreakingly true. And though it's not completely well-defined yet, it's quietly finding itself throughout these past three episodes. Show creators Galifiankis, C.K. and Portlandia's Jonathan Krisel, the director behind every episode thus far, haven't quite figured out where they'd like to explore Chip or what exactly they want us to feel about his personality. Are we supposed to root for him, for instance, and are we meant to laugh or pity him more in its failed attempts to define himself as an artiste? But in that middle ground, they've already developed a character filled with layers of emotions, heartache and exploration, and it's hard to believe such character work will fall to the waist side as Chip himself continues spiraling downward in his professional career. Hopefully we'll get the last laugh in the end.
In the Loop: Just as several comedic performers have done before her, Amy Schumer is going to take a turn for the serious in her next role. After displaying some massively impressive dramatic chops towards the final act of last year's Trainwreck, Inside Amy Schumer's namesake will take a supporting turn in the sure-to-be-heavy PTSD drama Thank You for Your Service, the directorial debut of American Sniper screenwriter Jason Hall. Like his last, Oscar-nominated screenplay, Hall's film will take a look at the aftermath of soldiers from the Iraq war, focused on three American veterans who struggle to return to living back home as the memories of war continue to haunt them. Based on David Finkel's book of the same name, the details behind which character Schumer embodies in the upcoming film are vague at the moment. But TheWrap notes she will not be playing any of the soldiers-in-question.
Those roles, in fact, are rounded out by fellow rising superstar Miles Teller, as well as relative newcomers Beulah Koale and Joe Cole (cool names, pun intended). Also joining Schumer in the supporting cast are Haley Bennett, Scott Haze, Keisha Castle-Hughes, Omar Dorsey, Brad Beyer and Jayson Warner Smith. Production is already underway in Atlanta, and expect this one to hit the festival rounds later this year. There's a chance Schumer may continue to hear her name announced around the awards scene. We'll have to find out for sure, though, later this fall.
Meanwhile, this is hardly the only project in-the-works for the busy-as-ever Schumer. In addition to working on the newest season of her Comedy Central sketch program, she's also working on her next starring/writing vehicle with director Jonathan Levine (The Night Before) and producer Paul Feig (Bridesmaids, this year's Ghostbusters). It's unclear when exactly this one will shape up into production, but with the more-than-exciting news yesterday that Goldie Hawn will break her over-a-decade-long absence from the silver screen to star as Schumer's mother in the untitled vacation-from-hell comedy, expect development to work up shortly. Additionally, Schumer has also recently co-written a new comedy script with her Hollywood BFF Jennifer Lawrence, which both stars are expected to star in as sisters. So expect her to star in that too, at least whenever both of them can find time in their busy, busy, busy schedules.