So let me get this straight: you've recently begun dating someone who you think could be pretty special? You've gone out on a few standard dinner dates, and you're ready to take things to another level? Alright, just let me think about this for a second. In order to truly win her over, whatever you decide to do should not only be well thought-out, but more importantly, genuine. By now you both have probably learned quite a bit about one another, so it's important to show her something that she may not have seen from you yet. Okay, I think I've got it: it might be time to invite her to your place for an intimate home-cooked meal. I hope your domestic skills are up to par, because this just might be the moment that either seals the deal between the two of you, or breaks it.
Why is it necessary for a man to have all the right moves when it comes to the kitchen, you ask? Well, for starters, being able to maneuver effortlessly as you prepare a [hopefully] delicious is the perfect way to show her that you can be the provider that she is looking for. You see, times have changed dramatically over the years, and being the man of the house isn't about how much money you're bringing home anymore. Let me just be clear for a second: you should be bringing home something, or at least show her that you're making an effort if you expect her to stick around. Secondly, a man's kitchen and dining areas serve as direct reflections of his taste level. When I say taste, I'm not necessarily talking about what your favorite foods are. I'm talking about your personal style as expressed through your decorum. She'll notice things like whether your cabinets and appliances look dated, how well you keep your spices and silverware organized, and even how well the table is set. Every detail matters, so it's imperative that you take everything into consideration before setting a date and time.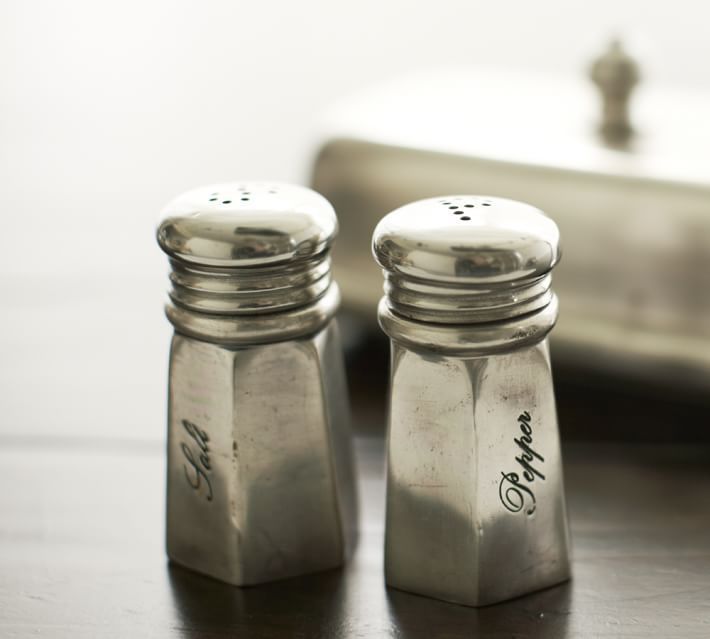 I figured that you'd already have a handle on deciding what to make, as well as pressing questions such as whether or not to use the fancy dinnerware (don't worry if you haven't worked your way up to that level of mastery yet). What I wanted to focus on today are areas that might not receive as much thought, but have the potential to make all the difference in the outcome of the night. You might not be able to secure a reservation at the nice, expensive restaurant in town, but that doesn't mean you can't create a space for fine dining with these unique features.
First thing on the list (other than preparing the food) is setting the table. You've got your silverware, clean plates, wine glasses, and even a few candles and a floral centerpiece to set the mood. But let me ask you this: is your tablecloth up to par? It might sound really old-school, but a quality tablecloth actually sets the tone for a gorgeous spread, especially when you're working with the Crate & Barrel exclusive Fete Pewter Tablecloth. Pewter is probably the richest tone of grey that you'll find, and it will pair perfectly with your dark wood table (as well as provide a cool contrast to that glass of red wine). Did I mention grey goes with anything? For $80, you'll be pulling this bad boy out for every special occasion after this.
Congratulations, you've managed to put food on the table without burning the place down. Now when she asks you to pass the salt and pepper, are you going to hand her a basic pair of throwaway shakers? Just think about the last time the two of you went out – did your waiter bring you back a pair of plastic tubes that look like they were borrowed from a school cafeteria? I'm not saying you need to have the most complex set that grinds the grains as you twist, but they should have some level of character to them. Speaking of which, these Antique Silver Sentiment Shakers from Pottery Barn have character written all over them. The vintage quality of these shakers offers a warm and polished feel, which will make you look that much more charming in her eyes. Get this: the $25 investment will live on for ages, as you pass these down to the next generation.
Now it's time for the really fun part: the wine. Sorry, I'm not here to tell you what to include in your stash, but what I can offer you is a unique way to store all of your favorites. That's with the Nickel Napa Wine Rack by Umbra, which is sold at The Container Store. You don't have to be a wine connoisseur to see why you need this wine rack. The beauty of the powder-coated aluminum speaks for itself. Each one retails for $30 and holds up to five bottles. If you find yourself going into double digits, you'll be happy to know that you can stack up to 3 racks on top of one another.
All you really have to worry about now is figuring out what to wear. Oh, and don't forget to inquire about any food allergies beforehand. Trust me when I say, a trip to the hospital isn't recommended.