| | |
| --- | --- |
| Posted by Justin Tucker on December 10, 2015 at 4:00 PM | |
What do guys like Tom Cruise, Michael B. Jordan, Harry Styles and even Justin Bieber have in common? Okay, so maybe they're all extremely wealthy, and might I add, exceptionally good-looking. They also probably share a great disliking for the paparazzi, as one can only imagine. But there's one other thing that you might be overlooking, however. While each of these men may be known for his iconic movie roles and chart-topping songs – or notoriously rebellious and downright reckless behavior in Bieber's case – one common physical feature which distinguishes any of them from the average laboring man is the set of pristine, impeccably white choppers which line the inside of their mouths. One could only begin to think of the many sacrifices that he must make in order to come close to a flawless grill such as the examples given: those daily Starbucks runs, that glass of red wine with your steak, and about a quarter to even half of your bank account (because believe it or not, fresh teeth aren't cheap).
As it stands, most of us probably aren't willing to drop everything and devote our lives to obtaining an immaculate set of chops. But let's imagine, just for a moment, that we didn't have to deal with the constant nagging of our jobs, or the bills, or the kids if you have them. What if we could easily withdraw a few hundred (to a few thousand) dollars and head to the best dentist in town for one of those optimum teeth-whitening procedures? I think it's safe to say that our lives might be changed forever. Our days of walking into a room unnoticed would quickly come to an end, and even the most stressful days in the office would be carried out with the most infectious attitude. Absolutely nothing would be able to wipe the smile off our faces.
Now, let's jump back into reality. Many of us are too busy to constantly worry about having movie star-quality teeth, but that doesn't mean we can't incorporate smaller measures of care into our daily lives (so let's not say goodbye to Starbucks just yet). Thanks to the Grooming Lounge, obtaining the brightest and whitest smile for our day-to-day lives is now easier than ever, with the following products from Supersmile: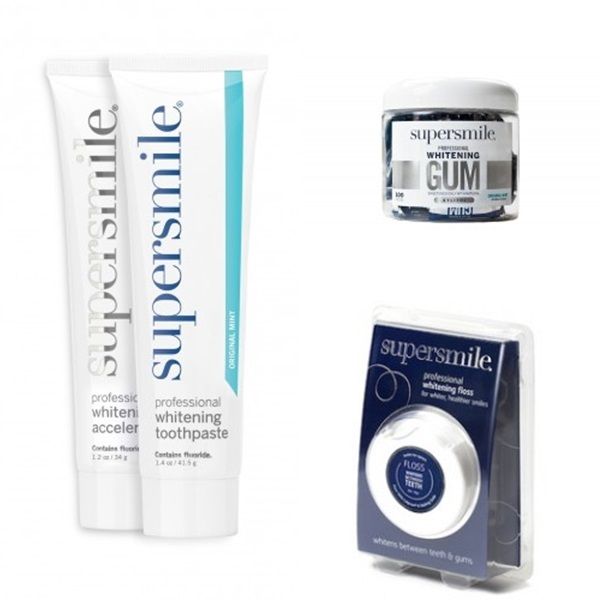 First up is the Professional Whitening System. If you thought an expensive trip to the dentist was your only option for a miraculously whiter smile, think again. This easy-to-use at home system combines whitening accelerator gel and toothpaste to bleach dull, yellow teeth and transform them into dazzling ivories. This can be purchased for a simple $36.
It's common practice to clean out all the nooks and crannies of your teeth after you brush, but now it's time to step it up with the Professional Whitening Floss. Filled with both Calprox and baking soda, this floss effectively removes stubborn stains from those hard to reach areas between teeth. A pack of floss will cost you $9. Let's not forget, twice a day keeps the plaque and bacteria away.
This last product might surprise you, as it did us. But get this: did you know chewing gum can actually help whiten teeth? Well, maybe not short-lasting flavored options like Juicy Fruit or Bubblicious, but if you're chewing Supersmile's All Natural Professional Whitening Gum, then you're in good hands. That's because of the Xylitol & Calprox in each piece which not only whitens teeth, but also freshens breath and fights cavities. For all of that, we can understand the $24 price tag.
We suggest you start practicing that perfect smile for the next family photo, or the next time your boss calls you into his office. You'd be surprised at how often your best accessory comes in handy.