Since I'm back for a second round of "The Buzz," perhaps it would be appropriate to make returns the theme of this week's column. Returns are always tricky; namely, depending on how well you left things off in the first place. And as you might have guessed, I use the word "return" loosely here. It could be the return to the basics or — more appropriately — to formula. Or it could be returning to characters we (or, at least, I) loved before. But it's all, definitively, about circling around how things were before, specifically exploring how they've change or could have changed, and seeing what becomes of them when they do.
Alright, it's time to face the strain. It's time to hit the road. Let's play one more round, if you please. Let's quit horsing around. Let's get this one in the books. Have I exhausted my lyric references/movie quotes? Yeah, probably. But let's get cooking anyway. Let's break it down, shall we?
Film: The Witch is the kind of movie I'm delighted and baffled to see get a wide release. The first from A24 — the active supporter and champion behind some of the best and most challenging films of the past couple years, including Ex Machina, The Rover, Under the Skin, Locke and The Spectacular Now, as well as controversial pictures that didn't quite swing my boat like Spring Breakers, Tusk and The Bling Ring — the widespread release of writer/director Robert Eggers represents the studio asserting their dominance in a time when indie films don't quite get championed unless, say, they break new mold. Or find their way towards streaming on sites like Netflix.
It's a gutsy move putting The Witch, a gothic, bleak 1620s colonial thriller, out to a wide audience and expecting massive appeal. In my opinion, it might be too faithful to its barren time and setting, as well as too contemplative and slow-burn, to gain a wide-audience appeal. But much previous sleeper hits It Follows and The Babadook, it's got a hell of a lot of good buzz coming its way. It certainly won more than a few admires at last year's Sundance Film Festival — where it premiered and A24 initially picked it up. And I think those who like this sort of demented, homegrown sort of terror will find a lot to love here.
It's a bit of a challenging sit, though. That much is for certain. Even the film's biggest fans will likely call it as much. It's not an easy film to digest, and though it avoids a lot of blood and guts in favor of atmosphere, it's not necessarily for the squeamish. Though it leaves a lot behind curtains and shadows, it plays its fiddle with a loud baritone, one almost as thick and hypnotic as lead actor's Ralph Ineson's bronze voice. It sneaks and stalks, much like last year's aforementioned It Follows, leaving a lot to be left waiting in suspense and looking for right moments to pounce with the big payoff. When those payoffs come, though, they seal the deal more than a few satisfying ways for those patient and observant enough to care (and as they should). But those expecting something a little sexier, a little quicker to jump scares and guiding its audience with a firm, if familiar, had may not like the apple they're feed here. It's traditional in many senses. It's self-credited as "A New England Folktole," and gathers its language and period details with a fine attention to detail — something they proudly proclaim in the final credits. It's a sullen work of old-school filmmaking, carefully considered and meticulous cobbled together to make something spookier rather than terrifying. But let the witch call you out, for if you are the right kind of viewer, it'll most definitely put a good spell over you.
Television: With its season two premiere this past Monday, Better Call Saul seemed to finally settle itself into what it wants to be. Though it never lacked assurance per se, the Breaking Bad spin-off prequel/sequel always felt buried in the shadow of its predecessor. And it didn't help that the show had to justify being considered in the same sentence as the last program created by Vince Gilligan. But what Better Call Saul lacks in BB's urgency and matter-of-factness, it most definitely makes up for in equaled magnetism, as well as greater patience and contemplation for the actions of its characters. Though it's often more jokey than Breaking Bad, Better Call Saul is not the comedy some people might expect from the character. But at the same time, it's also not nearly as heavy and menacing as its brother. It's a beast of its own nation, but one that clearly comes from the same talented hands, and one's that have clearly gone through the trenches and now knows what it takes to make a quality program with the maximum amount of potential. And this season two premiere displays just the same amount of wonderful pacing and careful consideration to the small details to often stand out just as bright as this universe once did before on the small screen. It's no wonder these guys win award-after-award, Emmy after Emmy. They clearly know how to make the little moments count, and the big ones have the payoffs they need to stand triumphant. And though BCS doesn't necessarily afford the same big moments BB did, it knows how to fertilize the eggs just as well as, if not better than, the first show the creators cooked together.
They know Jimmy, a.k.a. Saul Goodman, a.k.a. Gene, is not nearly as smart, ruthless and cunning as Walter White, even on his best or worse days. And showrunners Gilligan and Peter Gould, the latter the writer who created the character in the first place, not only understand this beautifully but respect him just the same. They make his arc just as thorough as it can be, and it also gives actor Bob Odenkirk the chance to provide some of his best acting to date. Granted, as a man who's spent a good chunk of his career behind the camera as a writer/director, they're may not be too much to go from here beyond, you know, Mr. Show, Nebraska and Fargo season one, but that shouldn't dismiss what greatness Odenkirk provides here. He brings a cunning wit, and a great deal of sensitivity, to the role that couldn't have been found in many others, as he strives to make his character both flashy and downbeat, prone to talking loud but knowing when he needs to be quiet, diligent and hell-bent but also held-back. It's a fine balance accumulated by seasoned, extraordinarily talented individuals, and if the rest of the nine episodes live up to this premiere, you should definitely make an appointment to call Saul.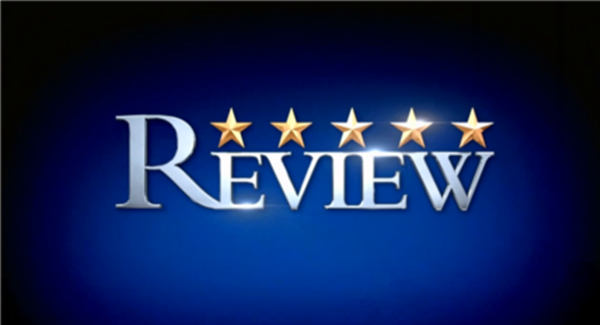 In The Loop: For fans of Andy Daly's utterly-fantastic series Review, this week came with news both good-and-bad. I'll start with the good: the show — centered around a life reviewer who ruins his own in the process of giving grades to everything from racism to murder — is, indeed, coming back for a much-justified third season. But here comes the bad news, because here's the catch: According to THR, this 2016 season will be the show's very last, and it'll be abbreviated. What do I mean by abbreviated? Well, I'm not sure exactly.
I don't know, mostly because the folks at the station don't quite know yet either. It could be a minimum of three episodes compared to the nine-and-ten episodes we've gotten with seasons one and two, respectively. But it could be more, if the creators decide. And they haven't. Plus, the station isn't quite sure yet how they'll roll-out these new and final episodes. It could be released once a week, as it was before. It could be released over the course of one week, going from Tuesday to Wednesday to Thursday, etc. Or it could all be released at once, back-to-back, movie event-style. It's a mystery at the moment, and among the many details unknown about the upcoming season at this point. But this much is known.
Apparently, the decision to bring back Review for a brief, final run was a mutual one. The program didn't necessarily win over a ton of fans, but those who loved it, namely critics, were very vocal about their support. And I'd like to think I was one of those people, but I know I wasn't. Not that I wasn't vocal about my love for the show; I was, of course. I just can't really call myself a TV critic, per se…. Okay, I'm getting away from myself. Essentially, the support was what kept the Viacom station interested. And that's what got us this far. But Daly wants to take the popularity he received in some high-end circles from his show and move on to different projects. And though that's certainly a little disappointing for those of us who love Review and its fictional host so much, it's certainly understandable.
Review is one of those shows that could theoretically go on forever, but absolutely shouldn't. Inspired by the Australian program of the same name, its keepsake only last about 13 episodes, and it's looking as though Daly's version will only have maybe 10 or so episodes more. And considering the show's enclosed universe — and demonstrating how the effects of one review very, very, very much affect the outcome of others — it would be supremely challenging to have this bad boy go on for much longer. Well, unless they want to have their central figure in a wheelchair for a season or two. Plus, it's very comforting to know Review is going to end on its own terms. Even though both seasons ended at a point which could absolutely be considered the end, there's a freeing, no-holds-barred liberty that comes from knowing this is most definitely the end, and that they can go out with as big a bang as they damn please (within their budget). I have no doubt they'll end it spectacularly, and I'm sure I'll be happy to give it a nice 5-star rating when it comes around.