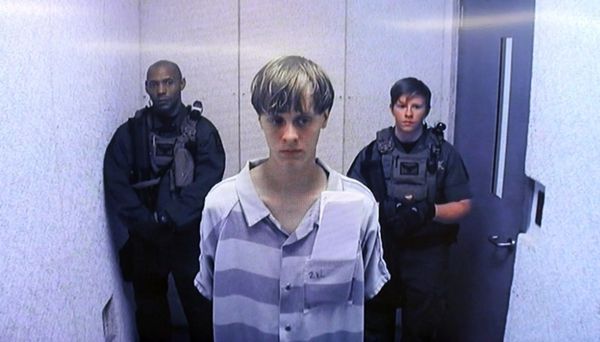 My first column for Man of the Hour covered the fiftieth anniversary of the Selma violence and how it related to contemporary racism, particularly the riots in Ferguson. A couple months later, I wrote about the shootings in Waco Texas and how they reflected America's gun culture. For that first column, I concluded that we have made great strides to eradicate racism in our country but that some fundamental problems still remain. For the Waco column, I condemned the actions of those biker gangs and argued that America needs to reconsider its love affair with firearms. Today, I am going to write about how these two problems intersect in response to Dylann Storm Roof's violent attack on a black Charleston church that resulted in 9 fatalities.
One main point of controversy is the associated symbolism. The Charleston shooting seems to be the final nail in the coffin for public display of the Confederate battle flag. It still flies over the grounds of the South Carolina capitol but there are renewed efforts to take it down, although it remains a symbol of Southern heritage and pays tribute to the fallen soldiers of Confederacy who fought for states' rights. There is a deserved sense of honor associated with the symbol, but unfortunately, there is also a rightful sense of hate. Roof revered the flag for its racist connotations, not its testimony to bravery, independence, and states rights. Even a growing number of Republican presidential candidates are calling for its removal, or in the words of Jeb Bush, to put it in a museum where it belongs. The killer used the flag as a symbol for his heinous mission, and it would disrespect the victims to leave it on public display.
Another point of controversy regarding the shootings centers on its technicality. Many people are criticizing the media for not classifying the violence as a terrorist attack. Political or ideological motivation forms the definition of terrorism, and after investigators captured Roof, it is clear he had high, if not sinister, aspirations. The shooter clearly targeted a specific minority by choosing to attack a black church. Some media members took the religious violence angle, claiming that Roof's actions reflected a growing overall hostility towards Christianity. They do make a valid point; Christianity's popularity and influence has been trending downwards the past couple decades, resulting in occasional violent activity. However, the argument does not take Roof's own personal life into account, as he was enrolled in a Lutheran congregation located in the nearby town of Columbia, South Carolina. This horrifying event was a conflict between members of the same faith therefore not a crime motivated by religious grievances.
The shootings are clearly a hate crime and could be easily classified as domestic terrorism. After further research into Roof's personal life, investigators found a variety of historically racist symbolism and scores of witness recounting his diatribes again African-Americans. His views on white power were documented all over the internet as well; in one picture he is seen sporting a jacket with an apartheid-era South African flag emblazoned on one sleeve and a Rhodesian flag on the other (Rhodesia was the name of Zimbabwe during its period of white rule). Roof is clearly worshipping outdated political philosophy that perpetuates inequality based on race, a policy that is not seen anywhere in the contemporary developed world today. He was born in 1994, several years after these divisive forms of government deteriorated as a result of activism and cries for social justice. How on earth could this kid have conceived such a twisted, evil ideology? Roof was a young man who has probably never even left his country to find a place where these ideas could be planted in his head. They could only come America.
The fact that a 20-year-old man could form these opinions while living in the Southern United States is a testament to our lack of progress. It has been a long time since legal equality was granted with the Civil Rights Act, but social equality remains elusive. I always thought that these problems would dissipate as society aged and the old racists died. I thought that evil outdated ideologies would fade away into the annals of our proud yet imperfect history. I was wrong. Despite being socially unacceptable to be a self-avowed racist, some people still seethe quietly and pass on their destructive thoughts to the next generation.
It is easy to stereotype the recipients of these messages as narrow-minded, uneducated, poor rednecks from the South. But they can be educated. Remember the racist chants by the fraternity at University of Oklahoma? Universities are supposed to be the pride and joy of the American system, yet they still have the capability of housing racists who develop their views rather than become more open-minded. But racism breeds predominantly among the uneducated, as in Roof's case. He dropped out halfway through high school and instantly succumbed to addiction to hard drugs, a lifestyle that only reinforced his spiteful views.
The media obsesses over dangers from the outside world. What about the threat that comes within our own population? Collectively, we have such a fear of violence and terrorism from outsiders that we forget about the hate in our own country. Islamic terrorists want to kill all Americans, but some Americans still want to kill some Americans. So much effort goes into keeping the evil out that we neglect the existing evil within our territory. The United States is supposed to hold the global standard of freedom, human rights, open and progressive thought, democracy, innovation, and equality. But something in the way we live creates people like Dylann Storm Roof. Now what role does gun legislation play in all this? To think someone as hatefully driven as Dylann Roof could be prevented from finding a gun to carry out his evil acts in naïve. What can laws do to combat such reckless hate? Within this context, there are two ways of preventing violence. Either confiscate all the guns so racist people cannot act, or take away racism so these people have no motivation to act. Guns are not going away in America. Racism can. The solution does not lie in restricting these people's capabilities to act; it lies in eliminating the motivation to carry out these acts in the first place.